About Us
Formally known as Something Blue Too, we have been helping girls find the perfect dress for Prom, Pageants, Homecoming, etc. for many years. We strive to bring you the best designer dresses in the business and give you an amazing experience from the moment you enter our doors! We do not take appointments, walk ins only!
Collapsible content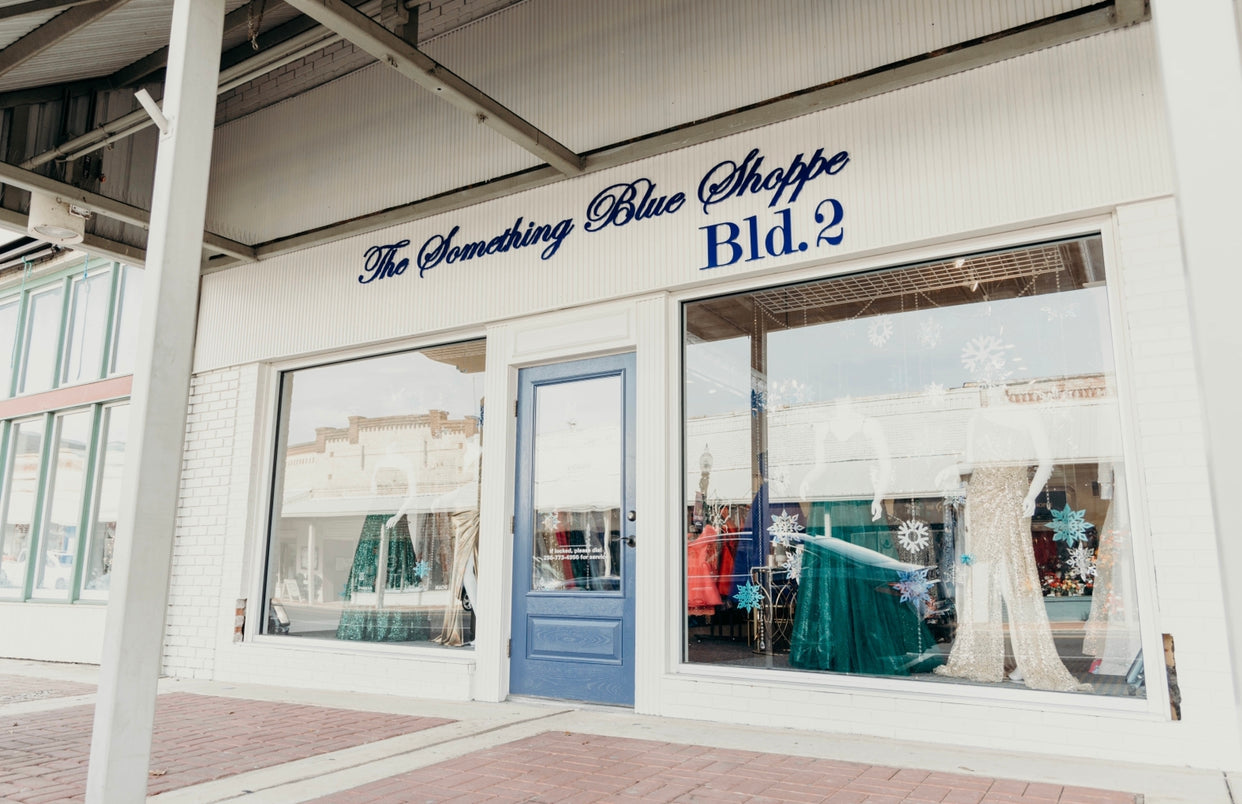 FAQ

1. Where are you located?

 We are located in Hartselle, AL at 220 Main St W Hartselle, AL 35640

2. Are you going to be selling formal dresses on this website?

Yes, we are working diligently to get prom and homecoming dresses on the website. Please keep in mind that our website does not feature our entire inventory that we have in store. Please check our instagram for new arrivals. @somethingbluebldg2 

3. I don't see a style I am looking for. What do I do?

Give us a call at 256-773-3535. We cannot ensure that all of our dresses will be on the website so feel free to call us or message us on social media! 

4. What are your store hours?

Monday, Wednesday, Friday: 10 AM- 4PM

Tuesday and Thursday: 12 PM- 7PM

Saturday: 9 AM- 2 PM

Sunday: CLOSED 

Do I need an appointment to shop? 

No! We are walk ins only. We do not take appointments. 

Can I make an exchange or return after purchasing a dress?

All sales are final. We do not make returns or exchanges.

Do you rent dresses? 

We do not rent dresses, they can only be bought.  

Do y'all do alterations? 

We do not do alterations. If you need alterations and are unsure where to go, reach out to us and we can assist you in finding a seamstress in your area! 

Do you carry accessories?

Yes we do! We carry earrings, bracelets, necklaces, purses, etc. that can be tried on once you have picked out your dress to complete your formal look! 

 
Address

220 Main Street W

Hartselle, AL 35640
Store Hours

Sunday: Closed

Monday, Wednesday, Friday: 10 AM- 4 PM

Tuesday, Thursday: 12 PM- 7 PM

Saturday: 9 AM- 2 PM
Return Policy

All sales are final. 

If you receive an item that is damaged please contact us at esales@thesomethingblueshoppe.com

All damages must be reported by email within 24 hours of delivery date and must include an image of the damage. Report damages to esales@thesomethingblueshoppe.com with subject line "Damage."

 

Orders take 1-3 business days to be processed and shipped out. Once an order has been placed it cannot be modified, canceled or changed.

We ship USPS with a 3-4 day shipping time depending on where your order is being shipped to. Due to COVID-19, we are not responsible for shipping delays. Once your shipment has been scanned by USPS we are no longer responsible if your package gets lost in transit. If your item is lost in the mail please contact your local USPS. 

Shipping price depends on the item we are shipping out.

Day dresses will be $8 shipping

Homecoming and Prom dresses will be $20